Southwest Florida Fine Art Metal Prints - Available NOW!
We are thrilled to announce that we have a small collection of photographs - all taken in Naples, Florida - which are available to order online as high-quality metal prints in different sizes.
With SmugMug and BayPhoto we have two great partners that support us in producing gorgeous and long-lasting prints on aluminum. Our online store offers a selection of sizes but if you require a very specific size that is not available online, simply send us a note and we will be happy to offer you a custom order.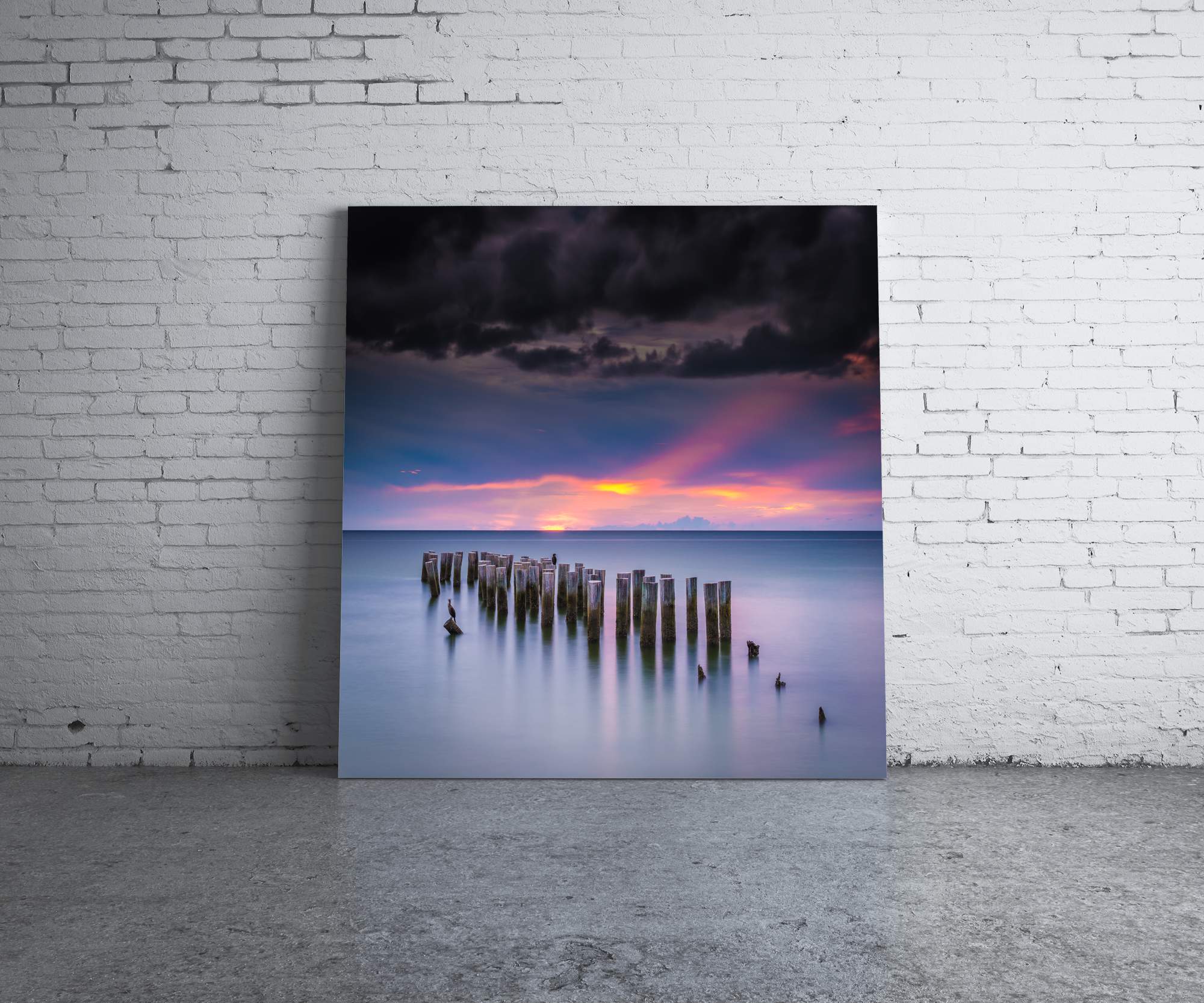 Black Curtain
I photographed black curtain in September 2015 on a very unusual southwest Florida fall day with low hanging gray clouds. I was not even planning on producing something for my portfolio, the weather looked so unpromising. I drove to the beach to scout a good location for the upcoming full moon. I was just about to leave the beach when I saw that tiny little bit of color at the horizon - I knew from experience that this could be the start of something magical; and I was right. For just a minute or two, the colors exploded into bright oranges, pinks and purple while the band of low hanging clouds formed a dark curtain on top of that colorful show.
I don't think anybody else was able to capture this beautiful natural show as I was alone at the beach, everybody else had already left.
Indy Poles
The usually very calm gulf of Mexico here in Naples, FL was really rough that day and the timing of high-tide gave me the opportunity to create this photograph. Usually the smaller sticks in the foreground are on dry-land or in very shallow waters.
Blue Angels
I remember taking this photograph quite well... I was standing in waist deep water on a rather cold January day and turned blue.. hence the title of the image.
Gulf on Fire
Usually I'm not a huge fan of (almost) cloudless sunsets but on this December evening, the sky went into a deep orange purple which caused this beautiful reflection in the water.
Tranquility
I'm not a morning person - at all - but every now and then I'm pushing myself out of the bed to shoot a fullmoon-set over the gulf of Mexico. The moon was still up - just out of frame on top of the pier - illuminating the landscape in a very warm light.
#Naples is on #fire, literally.
#BreakingNews solar eclipse at Disney springs and nobody knew about it
#Hurricane #matthew is providing a beautiful #sunset here in #Naples Shot with #iphone7plus
Really really impressed by the new iPhone 7 Plus camera and #apple 's new portrait feature #starbucks #portraitmode
Across the pond #naples #florida #iphone